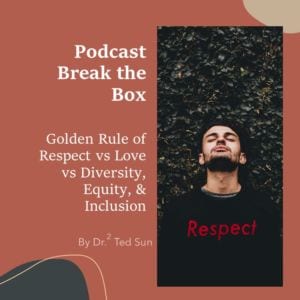 PodCast:
Golden Rule of Respect
vs
Love
vs
Diversity, Equity, & Inclusion
What kinds of conflicts are you facing on a monthly basis?
How strong are your relationships within the workplace or at home?
How much influence do you carry when you speak?
This episode exposes the fallacies in Golden Rule of Respect. Being extremely popular, it is embedded in how we approach so many forms of relationships that brings ample conflicts whether it's a personal relationship or a business one. From a personal perspective, explore how love shows respect by understanding the needs of others. From a business perspective, build a wall of needs to develop the skills to synthesize needs and preferences from multiple perspectives.
Especially with Diversity, equity and inclusion (DEI), build a knowledge structure that shows respect to all voices.
If you like what you've heard, take action. Expand your influence as a leader by establishing a level of respect that's admired by all.
For those who wish to make a systemic impact, explore the most integrative and transformation diversity & inclusion program here.
Podcast: Play in new window | Download